Buttons
Time to amass your button wealth
Lopahkin pulled me aside backstage. He noted that I had traded out his beautiful metal buttons for plastic ones. Lopakhin is the change-agent in Chekhov's The Cherry Orchard. The admirer of the aristocrats/increasingly wealthy merchant/son of a peasant/grandson of a serf would definitely care about what his buttons told you about who he is and where he belongs.
The original buttons were plain brushed nickel. They were pretty. I had switched them out because they reflected the light so much in that small Manhattan theater that the set designer - who had yet to build the set two days before tech - offered to switch out the buttons himself. But the ones that I chose were metal on the back, but the filigree part was plastic or some kind of resin. They looked fine from five feet away…but the actor was sure they made him feel cheap.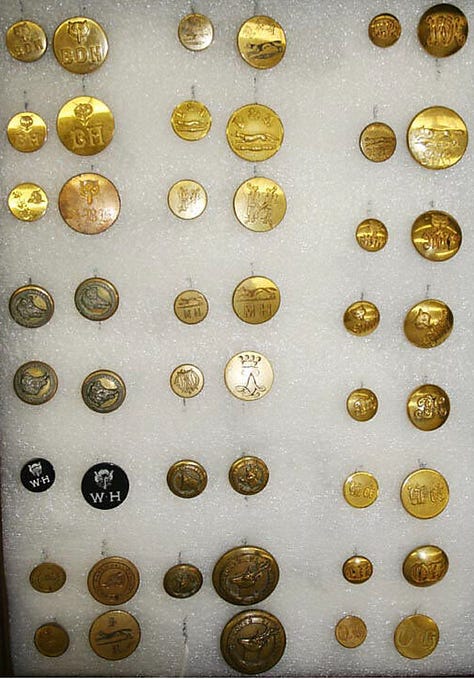 So, on a hot August afternoon I hustled my 7 months pregnant body from Midtown to the Lower East Side and consulted the old Russian-American-button-seller. Too much plastic I said, as I handed them back to him. So the 20 box shuffle began again. There were hundreds of ancient boxes and bowls of whose-its and whats-its. The Little Mermaid's Thing-a-ma-bob cave in the middle of the block above a dry cleaner. You know, the kind of place where you have to keep track of all of your protruding body parts. So your rear end doesn't cause an avalanche 50 years in the making. I bought more little ribbon pins and a tiny chain, upgraded to 45¢ buttons. Camouflaged amongst the buttons was a bowl of semi-ancient candy that he insisted I help myself to. Yes I ate it. I told my mother as I left the store. She was worried for my unborn child.
I don't have photos of that show. This Moscow to London production was being performed at the same time as the one I designed. It happens that the color palette of our production was largely grey, too. When my director asked for clothing that didn't look period, but was period, but wasn't period, but looked period - I think this production was what she was imagining. So, let's pretend that the production below is the one I designed…on a $50 budget.
A button that is drawing focus or throwing off a look needs to be changed. Having a big stock of buttons at your disposal can make this a wonderful and easy tech upgrade. Shell and wood and bone and leather always look better. And they look best when they have been languishing in a button drawer for a while, sitting on a never-used jacket in stock, or in a very old bowl that only one person can locate on the Lower East Side.
If you don't have a button-stock, there is an easy way to get one. Ask all the local organizations like faith communities and flower clubs to put up a flyer asking for everyone's button stocks. Tell them what it is for and what the shows for the year are. They will be endlessly pleased that there is a loving home for their mother's lavender plastic buttons with the rhinestones from 1978, and, if you are lucky, those turn-of-the-century jet bead buttons that arrived in their home with their grandmother's earring box.
Activities like these are a great backdoor for getting the word out about your shows. This is a powerful community engagement tool; but also a small-time fundraiser that you can use for every show. Just ask folks if they would mind/like if the buttons were available for silent auction at the concession stand for each show. Some people will love to write down whatever they know about them. I bet you would even get a photo of the person they belonged to. I would then replace the standard white plastic buttons on two button-up shirts with some fabulous oldies and put them on display (for silent auction as well!). Any buttons used in the show would get a thank you in the program. Everything would have the little history on a card.
The person that benefits most is the actor. It is the piece of costume that gets the most interaction with intelligent nerve-endings. When it is on a jacket, it is the last costume moment that puts them fully into character. These are the buttons that Lopakhin would have touched before they walked through the door and into the scene. And if they are an actor who likes a little fidgety action, they will button and unbutton that jacket 17 times before it hits the hanger at the end of the night. Worth two sweaty trips to my ancient friend and any health repercussions my first born incurred because I ate that candy.
My siblings and I have a button-inheritance from our great grandmother sitting in a closet in my parents' house. Please let me know if you need a button supply for your production and concession stand. I will send one along beautifully displayed.
Check out the above article to see the beautiful button selection the tailor chose for this 1950's silk and will kid's suit we just had made.