Do French Women Wear Joggers in Public?
A Prayer for the French Republic
Kitten heels on cobblestone streets? Yes. Gym clothes on the way to the gym, no.
That bit about the gym clothes may not be true anymore, but I think it was true 10 years ago, when this play was set. I distinctly recall hearing that and seeing it in action 20 and 30 years ago. Hm…I wonder what you would wear if you went for a jog? Would you have to jog at 5am, like we are to assume Marcelle has done in scene two of A Prayer for the French Republic? If you are going to wear leggings and chunky sneakers, you would want as few witnesses as possible. Motivation to run fast - so you appear blurry to any onlookers.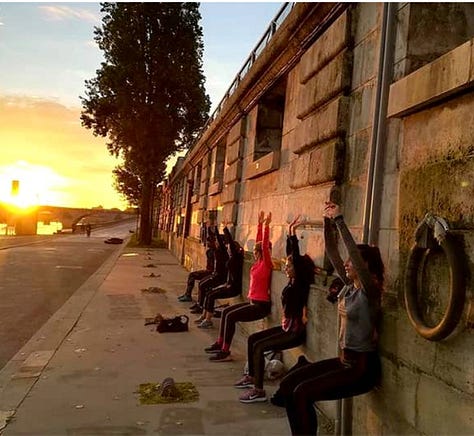 A mom moving around an apartment with purpose in a tidy workout outfit is a great contrast to her depressed 28 year old daughter still in her pajamas. I bet there is some work-around for the workout-clothing-in-public-problem that French women all tend to do. In NYC a decade ago, when those ballet/barré classes were so popular, you could see elegant women shopping with basket in hand in those tiny grocery stores in Manhattan with a very drapey shawl/sweater thing over their leotard, their sweaty hair in a neat bun. What is the French equivalent that Marcelle would be wearing as she hustles around her apartment just returned from post-jog shopping?
As for the depressed daughter, Elodie, "joggers" are a great choice because she, unlike her mom, would never go out on a jog. For a motivated mother who wears heels and a blazer to work every day, wearing sweatpants is anathema. If I were Elodie, sweatpants would be in my arsenal for the daily mom vs. daughter skirmish. And then! it would be enfuriatingly French if Elodie managed to look great in those same sweatpants when she went out to the bar with Molly. If she finally did change out of the sweatpants (into jeans, of course), we would sense that she is taking her first steps out of depression.
So, what would Molly, the American, wear? A 20 year old college student going out to a bar with an older Parisian cousin? Americans own a lot of clothes. The young women in the red door frame in Paris below are from California, not New Yorkers, so you have to question the grooming and clothing choices…but let's not doubt the pan-American size of the suitcase! So big! What size bag do you think Molly brought to stay the weekend with her distant family in Paris? What cubic footage of a small Paris apartment would it occupy?
I am sure Molly packed clothing that she thought was very French, noticed what was not quite right, and then went shopping to see if she could get it a little more correct. French women do wear jeans, ballet flats and Breton tops a lot…and berets. Would it be too much for Molly to wear one of those? All of them? I think you would want to have them all available and give it go.
There are many many places in the world where an astonishing high percentage of the population have a leather jacket. Paris and New York City are on that list. When all characters own an item from one category, but the items are all different - you are instantly clearer about how these characters are different. I wonder if, being a vegetarian, Molly would have a "leatherette" jacket like I had in 2016. (Not an animal rights thing in my case, more of a $ thing.) The first photo below is of Columbia students at a climate protest in New York, in real leather jackets. Leather is a by-product of the cow meat and dairy industry, not the reason that we have so many cows, so maybe those two aren't worried about it. Maybe they are not across the board super-lefties. Or maybe they think leather looks awesome, no questions asked. The rest are French folks on the street. Both productions have put Daniel, the young man, in a leather jacket. I would say you should consider that Charles would wear one, too.
When you are doing research on what people in France wore in 2016, half of the photos are of folks looking fabulous on their way to fashion week in Paris and the other half are of people in the midst of protest, terrorism, homelessness and tragedy. It is telling that the American in Paris that comes up in the search is a young woman killed in a bombing.
It is very important that in every moment of the play that the line said from Patrick to Marcelle, "Look at you! You are so French!" makes sense. Imagine a Panamanian in Greenland, or vice versa. That is how it should feel when we imagine this family elsewhere. I don't know how you convey the loss to France that this family leaving presents. Why, as the prime minister of France said, "If 100,000 Frenchmen of Spanish origin were to leave, I would never say that France is no longer France. But if 100,000 Jews leave, France will no longer be France. The French Republic will be judged a failure." My only answer is to try very hard to capture what makes a Parisian family unique, in the world. Capture the beauty in it, and make it feel utterly natural - that French insouciance embodied - so that you know that this family helped shape what France culture is for those thousands of years they lived there.
A great show for a school. Let me know if you want a copy of the script and I will send you a digital one (the printed script is not yet available). In the meantime, don't take my American word for how French folks tend to dress. Watch the three episodes of Franglais on youtube, where Alexa Chung gets three friends to explain what makes French women so French. The "pajamas" that one French woman's mother sends her every year explain so much.