Non-Linear Narrative
Baby Steps with A Prayer for the French Republic
Can an audience be taught to follow, like and then love a non-linear narrative?
We are going to find out. I wish I could turn my chair around and watch the audience watching this upcoming season of shows at the Huntington in Boston. Loretta Greco, the new artistic director at the Huntington used that phrase non-linear narrative when I described the supposedly un-producible plays of Victor I. Cazares. She has hope that the Boston theater audience will soon be able to follow, like and love a show that writes its own laws of time and space.
A couple of digital humanities scholars, Andrew Piper and Olivier Toubia, study how readers react to non-linearity in storytelling. Their specific field is called computational narratology. Heh. I wonder how students would respond to being called narratologists in class. The imagery of taking a scalpel to a book might have broad appeal amongst the middle school set. Some narratologists do "laboratory" experiments. I was hoping that this meant people had some exciting nodes and wires stuck on their heads and hearts and we got to see some pretty images of their brains lighting up with pleasure or annoyance. Nope. College students self-reporting their experiences on a carefully constructed worksheet - so, the laboratory is an English class.
No complaints, though. What a privilege to consider how audiences follow plots without having to crane my neck.
This paper titled A Quantitative Study of Non-linearity in Storytelling starts off by asserting that non-linearity is "near universal" in storytelling across time periods, mediums and cultures. So, marching along one event after the other is the rarity. Those a then b then c, etc plots that Ibsen did in the middle of his career got him called stodgy are the unicorns. Wow. News to me.
These researchers found a slight negative reaction to non-linearity, they mentioned that the laboratory work found the opposite. My super scientific trial - looking at the person in the seat next to me, eavesdropping on stall-to-stall conversations after the show - concurs with the slight negative result.
This study looked at time, setting, topic and perspective and drew some dot and line models. When you pull apart the different kinds of non-linearity and look at how they are used, you get some very useful insights into what works for the majority of these test subjects, and what doesn't. I haven't seen a one-after-another linear play for a long while, so writers must think the effect of bending time is not "slightly negative" but wholly positive.
Given that there are obvious costs imposed on audiences when stories are told out of order, it is important to understand when, where, and to what extent these tactics are employed and to what effect. Why do people indulge in such communicative inefficiency and what is gained by it?
So, these authors have met my dad. His puzzled face is communicating that same sentiment from row 3 for many of my shows. He has company. My favorite what-in-tarnation?-face happened on a director. And not a particularly conservative one. They locked eyes with me while returning to their seat for the third act of Medea/MacBeth/Cinderella. No one wants to see a colleague make a goodness-gracious face at their show. And you never know who is next to you in the audience. So, this face was magically both extreme and subtle. "I'm lost!"
Hmmm…is there a recording of Medea/MacBeth/Cinderella available anywhere? at the University of Oregon library's understudy video collection, but no where else I can see. I would love to see if that K-Pop and Baz Luhrman-loving retired English teacher from whence I sprang can understand this show. My mother likes a barrage of imagery and information. That show had so much to process at all times. If the computational narratologists had to graph Medea/MacBeth/Cinderella using their time, speed and circuitousness models:
I am guessing it would look like this:
The co-writer and co-director of Medea/MacBeth/Cinderella is Bill Rauch. When I saw this revival, I had just seen his Cherry Orchard at Yale Rep, and he was about to start a decade-long run at the biggest regional theater in the country — the Oregon Shakespeare Festival. I was still in my seat as the theater was emptying out, discussing the show with my grandmother, when Bill walked up. He wanted to know what we thought of the transition from Act 3 to Act 4. Pre-Act 3 looked like this: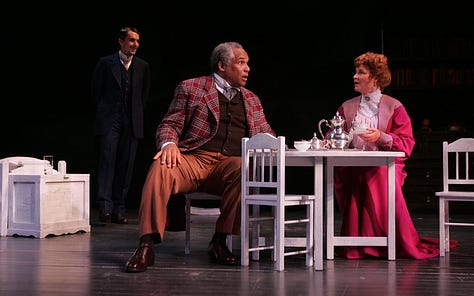 The transition to Act 4 had a beautiful music cue that went from the orchestral-ish sounds to some slightly electronic storm-like sounds. Wind blew across the stage, a modern person with their household in a shopping cart and their whole wardrobe on their backs crossed the stage as the hands on a giant clock moved a lot. And then the stage looked like the poster for the show:
And the lead walked out in a Chanel-ish suit, like the photo above. I can't find any photos of that half of the show. Maybe they didn't release them so that the shift from 1900 to 2000 could be a surprise.
I think Bill wanted to know if the clock was necessary. Probably not. Lighting cue, sound cue, wind, modern homeless person, modern clothing. Those signals were probably all we needed to adjust. I appreciate the ability to see a show in the context that makes the most sense to the action and the characters - and then be helped to apply it to our current context, though. That is a neat, very clear and explicit device. I would try that with a number of "classic" shows.
So, that was a very linear play with only a few settings, all of them on the same property. Bill Rauch and company just added a time space continuum leap between two acts. And they gave us a lot of help making the transition.
He wrote Medea/MacBeth/Cinderella in college. It is all three plays onstage all at the same time. They mostly don't interact, but they sometimes do.
So, his young self wanted all of that all at once. His 50 year old self wondered if the audience could even do one time leap.
A Prayer for the French Republic seems to be Joshua Harmon's first non-linear play. Bad Jews and Significant Other are fairly straight forward (wonderful and funny and difficult) "talkie" 4-person, 1-location, 1.5 hour long plays. That formula makes them easy to produce. The characters in those shows are in their late teens and early twenties, fast, funny and articulate. I imagine these shows would be easy to read and enjoyable for a school crowd. If anyone wants to read them and tell me what you think, I would love to send them to you.
A Prayer for the French Republic is a fast and funny "talkie" debate play, but it employs all of the non-linear devices that the others lack. It bounces around in time a lot, shifts between and older apartment and a newer one without much warning. Different characters address the audience directly, and then there are scenes that are semi-narrated before they happen in real time. It is not super confusing, if you can refer back to the character list or re-read the opening explanation of who everyone is and how they are related. It is a costuming challenge for sure, because actors play several characters. Maybe we see them transform on stage, maybe not. Maybe there is some other helper to shift us from 2016 to 1946, like a lighting cue.
I am excited to see how this production handles it tonight. And what the Huntington audience thinks of it.