The Cherry Orchard
The perennial favorite
Will it stay a perennial favorite now that my grandmother will no longer be patronizing her favorite theaters?
I was struggling with the design for a show, maybe The Cherry Orchard. (They are always a struggle, if it is easy it never looks very good.) I told my grandmother about it as she was passing through town on her way to a show. She didn't have time to even cross the threshold of my new home, so from the stoop she benevolently tossed me a cherry of wisdom to throw on top of my graduate degree in design, "Just make everything white. That always looks good." I don't remember what I said. But I certainly found that simplified approach to what I do enormously insulting. My grandmother never cared whether she insulted a person, on the contrary, she enjoyed it. She smiled at my annoyance and gave a look that said, "Take it or leave it. I'm right."
Rest in Peace, Annie. You were right.
Before I tell you my favorite, please take a look at some of the productions of The Cherry Orchard and find your own.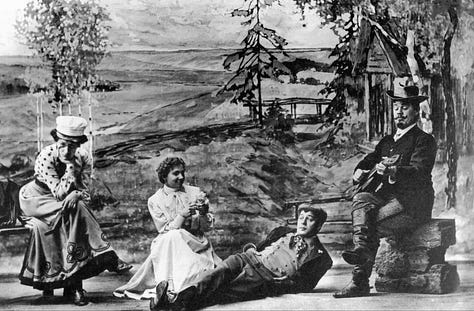 I think Judi Dench in that costume is perfect. I couldn't find many photos; however, from my little bit of evidence, I surmise that nearly everyone is in white. All of the rich folks at least. I think it makes more sense than the grays of my production. White is so impractical, and cotton so practical. Paradoxical dressing. Impeccably made and maintained clothing worn with a nonchalance that takes generations affect. This 100 year old look still reads the same today—elegant.
My grandmother grew up emptying boarders' bedpans on her way to school, back when Connecticut had rural poor. The daughter of an indentured servant, her steady income climb job by job and degree by degree is remarkably similar to Lophakhin's, the son of a serf who buys up the cherry orchard in the play. In fact, she so admired old New England WASP-y wealthy lifestyle that she grew up adjacent to, that she moved into a house on a peninsula owned by the Griswold's - descended from Matthew Griswold, a British colonizer who arrived in 1639 and by 1647 was the wealthiest man in Connecticut owning many thousands of acres of land. His descendants are having a very hard time figuring out how to earn the money to keep all of their expensive real estate, just like the Ravenskaya Andreievna clan in the play. Cash-strapped, they have to rent to the likes of Annie.
First things first. My grandmother chopped down the trees. I kid you not. She didn't ask. They were blocking her view of the ocean.
In the style characteristic of her adoptive New England Protestant culture, she was openly disdainful of most forms of feminine effort. Land's End and Eddie Bauer all day every day. However, she loved to watch a well-mannered and well-coifed sharp female protagonist throw some daggers. She would have loved this performance and smiled when Judi Dench was casually cruel about the crassness of the nouveau riche; and grinned when she heard the saws start-up as the curtains closed.
I didn't plan on writing this follow up to yesterday's button musings. But that photo above with a 50 year old Judi Dench was my second Dame Dench sighting of the week. In Belfast, 4 decades later, she looks appropriately different. She looks like a real grandma. Everyone else in that film looks like a movie star, and the biggest movie star looks like a grandma. Not my early-American-painful-wooden-chairs-collecting grandma; a worn-and-comfortable-floral-couch-grandma. That grandma lived next door until a few weeks ago when she passed away. You couldn't take that Belfast grandma out of Ireland, and I guess you couldn't take the Ireland out of Mary next door — because they really really looked so much the same. I had trouble keeping it together at the end when we see her for the last time.
Everyone can nip and tuck to their heart's content. No stones thrown from here. However, thank you thank you Judi Dench for showing restraint and looking so like most every 80 something female…ever. And thank you, for doing that awesome acting, with some awesome costume design to support. My next door neighbor was … a saint. This performance told me that Mary and her kind were lovingly noted and appreciated while they were here.
As for my grandmother Annie, I do wonder if her passing is symbolic of the passing of an audience that would campaign for and delight in a well-made Cherry Orchard. Infamously (and allegedly), a large donor to the Huntington in Boston asked for more Chekhov in exchange for a big check. Obviously, Broadway and the West End don't seem to tire of Ibsen and Chekhov. I wonder what regional theaters will do in the years to come. I am happy to wait it out and watch the television version of a different Judi Dench Cherry Orchard on Youtube. The costumes are not what my grandmother ordered, but I will think of her evil chuckling while I watch it all the same.